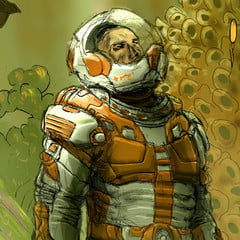 Arthur Haas
Freelance illustrator & concept artist
Amsterdam, Netherlands
Summary
Arthur Haas (1969) is a concept artist from Amsterdam, the Netherlands. He specializes in environment design and concept art for the entertainment industry. Arthur works as a freelance artist for major Hollywood film studios and international book publishers.
In 1994, after studying photography for two years, Arthur discovered painting and had several successful exhibitions
in Amsterdam. Since 2000 Arthur combines digital and
traditional painting. Since 2010 he works as a freelancer.
Specialties: science fiction environments and design
Skills
Environment Design
Concept Art
Illustration
Book Cover Illustration
asset design
Software proficiency
Productions
Book

Armistice

Year

2017

Role

illustrator

Company

Kosa Press

Movie

Startide Rising

Year

2018

Role

concept artist

Company

Old Monk Productions

Movie

Cobra the space pirate

Year

2012

Role

concept artist

Company

Alexandre Aja-director